Louise Underwood
b. 8 July 1880, d. 5 September 1946
Louise Underwood|b. 8 Jul 1880\nd. 5 Sep 1946|p19.htm|Joseph Patterson Underwood|b. 26 Feb 1845\nd. 1 Feb 1925|p66.htm|Louisa Amanda Barnes Hanks|b. 3 Jun 1847\nd. 2 Feb 1912|p67.htm|Ammon Underwood|b. 13 Feb 1810\nd. 17 Nov 1887|p72.htm|Rachel J. Carson|b. 4 Feb 1820\nd. 14 Feb 1896|p73.htm|John A. Hanks|b. 19 Apr 1812\nd. 27 Apr 1889|p87.htm|Euphemia M. Morris|b. 10 May 1822\nd. 29 Mar 1850|p88.htm|
Grandmother of
Laura Jane
Munson
.
Family Background:
Appears on charts: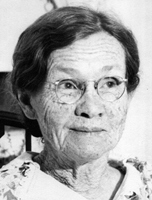 Louise Underwood
Louise
Underwood
was born on 8 July 1880 in
Columbia, Brazoria County, Texas
,
3,4
(now
East Columbia
). She was the daughter of
Joseph Patterson
Underwood
and
Louisa Amanda Barnes
Hanks
.
1,2
She married
George P.
Munson
, son of
George Poindexter
Munson
and
Matilda Agnes
Davis
, on 10 October 1906 at
Bethel Presbyterian Church, Columbia, Brazoria County, Texas
, in a ceremony performed by Reverend J.A. Ramsay.
5

She died intestate on 5 September 1946 in
Houston, Harris County, Texas
, at age 66.
3,4,6

She was buried on 6 September 1946 in
Munson Cemetery, Bailey's Prairie, Brazoria County, Texas
.
3,7

     Louise, youngest child of
Joe and Lou (Hanks) Underwood
and the only one to marry, grew up at Columbia in the
Underwood Home

on the west bank of the Brazos River where she was born. Family tradition is that she was named Louise, rather than Louisa for her mother, because her father said that for him there could never be but one Louisa. Her nickname was "Coochie," but it is unclear to the writer if it was a nickname used within the immediate family. Her cousin,
Milam
Borden
, always called her Coochie, and the Weems children who lived across the avenue in Columbia called her "Miz Coochie."
8,9
     The writer has little information regarding Louise's schooling, though she was no doubt decently educated. She appears in a school group photograph

taken circa 1890 with her aunt and uncle,
Virginia (Hanks)
and
Jim
Taylor
, her cousin
Effie
Taylor
, and several unidentified children. It was probably Varner Creek School where the Taylors are known to have taught during that time, but it may have been a private school. She had a natural musical talent and played the guitar and piano by ear.
     Louise broke her engagement with Masterson Smith, the son of a neighbor, after she met
George Munson.
The church building where she and
George
were married was destroyed in the '32 storm, a small (in area) but deadly hurricane that did tremendous damage in Brazoria County. However, Bethel Presbyterian remains an active church in East Columbia. They honeymooned in San Antonio, staying at the
Menger Hotel
. Louise wrote a postcard

to her sister Laura while on their honeymoon.
     Louise was a tiny red head, well under five feet tall, and with feet so small - size 13 children's - she had to have her dress shoes custom made. For everyday shoes, she shopped at Poll Parrot's, a children's shoe store, in Houston. She had green eyes, a fair complexion, and her hair, by
Ruth Anna Munson
's recollection, was the color of a new copper penny. She washed her long, slightly wavy hair in rainwater with Cuticura soap, the only brand that didn't irritate her sensitive skin. Her small stature was of some concern to
George
. He was in Fort Bend County working at the House Plantation when
George Jr.
, their oldest child, was a baby. From there he wrote Louise suggesting that she should hire a wet nurse because he felt nursing a baby would take too large a toll on her.
10,8
     The day
George
died, he, Louise,
Ruth Anna
Munson
, and Ruth Anna's son
Joe
were the only ones at home.
George
had gone duck hunting that morning, but came home feeling poorly and went to bed. Louise's sister
Laura
paid an unexpected visit, and after going in to see
George
and Louise, came out and told
Ruth Anna
that
George
was gone. By
Ruth Anna
's account,
George
's death blew out the candle in Louise's eyes. She was so distraught that she was unable to attend the funeral, and she never recovered emotionally from the loss. After the Fosters moved in at Bailey's Prairie and the Joe Munsons had moved to Angleton, Louise spent most of her time in East Columbia with
Laura.9
     In her later years, Louise suffered from pernicious anemia. Laura took her to Galveston on a regular basis for painful liver shots as there was no cure for the condition. She also had very high blood pressure and had complained of ringing in her ears. She was at an appointment with an ear doctor in Houston when she suffered a fatal heart attack in his office.
9
Additional Data
Louise Underwood was named in her mother Louisa B. Underwood's will dated 26 February 1891 in Brazoria County, Texas.2

If Louisa B. Underwood had been the surviving spouse, her children, Kate Underwood, Laura Underwood, John Hanks Underwood, and Louise Underwood would have inherited equally, and providing he was of legal age, John would have been executor.

Louise Underwood appeared on the 1 June 1900 Federal Census of Columbia, Brazoria County, Texas, in the household of her parents, J.P. and Louise Underwood.11



Louise Munson appeared on the 15 April 1910 Federal Census of Columbia, Brazoria County, Texas, in the household of Joe P. and Lou A. Underwood, her parents, with her husband George Munson, and their children George and Cathern.12



Mrs. Louise Munson was listed as the next of kin on the World War draft card of her husband George Poindexter Munson 12 September 1918 at Angleton, Brazoria County, Texas.13

Louis[e] and George P. Monson appeared on the 1 January 1920 Federal Census of Columbia, Brazoria County, Texas, enumerated 3 January 1920. Their children George P., Catherine, Joseph U., Laura, John H. and Robert M. were listed as living with them.14



Louise Underwood Munson was named in Joseph P. Underwood's will dated 28 April 1920 in Brazoria County, Texas.1 "I want my daughter Louise Underwood Munson to have the note I hold against her husband George P. Munson for Two Thousand Dollars, secured by mortgaged on Cattle, together with any debt the said George P. Munson may owe me at the date of the execution of this will". Also mentioned was a parcel of ground in Columbia previously given to George and Louise Munson. Laura Underwood, John H. Underwood, and Louise Munson were named co-executors and were to share equally in the residue of the estate.



Louise U. and George P. Munson appeared on the 1 April 1930 Federal Census of Brazoria County, Texas, enumerated 19 April 1930. Their children Joseph U., Laura L., John H., James R. and Virginia were listed as living with them.15



Mrs. Louise Munson was named sole executrix and heir in George P. Munson's will dated 14 August 1931: "All of my property of every nature & character, be the same, real, personal or mixed, of which I may die possesed I do will & bequeth to my said executrix & wife, Mrs. Louise Munson.16

Louise Underwood Munson was a member of Asa Underwood Chapter, the National Society of the Daughters of the American Revolution that was named for her ancestor and organized on 24 November 1941 by her sister Laura Underwood.