Joseph Underwood Munson
b. 25 April 1912, d. 11 June 1997
Joseph Underwood Munson|b. 25 Apr 1912\nd. 11 Jun 1997|p3.htm|George Poindexter Munson Sr.|b. 12 Aug 1873\nd. 7 Jan 1944|p18.htm|Louise Underwood|b. 8 Jul 1880\nd. 5 Sep 1946|p19.htm|George P. Munson|b. 4 Jun 1832\nd. 19 Apr 1878|p20.htm|Matilda A. Davis|b. 22 Feb 1850\nd. 25 Feb 1882|p21.htm|Joseph P. Underwood|b. 26 Feb 1845\nd. 1 Feb 1925|p66.htm|Louisa A. B. Hanks|b. 3 Jun 1847\nd. 2 Feb 1912|p67.htm|
Son of
George Poindexter
Munson
Sr.
Son of
Louise
Underwood
.
Father of
Laura Jane
Munson
.
Family Background: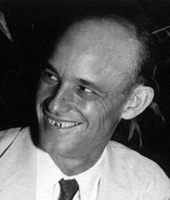 Joe U. Munson, Sr.
Joseph Underwood
Munson
was born on 25 April 1912 in
Columbia, Brazoria County, Texas
,
1
(now
East Columbia
). He was the son of
George Poindexter
Munson
Sr.
and
Louise
Underwood
.
1
He married
Ruth Anna
Horn
, daughter of
William Lemuel
Horn
Jr.
and
Ruth Minerva
Fairfield
, on 16 September 1935 at
First Methodist Church, Angleton
.
2

He died on 11 June 1997 in
Angleton
at age 85.
3
Funeral services were at
Bethel Presbyterian Church, East Columbia
.
4

He was buried on 13 June 1997 in
Old Columbia Cemetery, West Columbia
.
5,4

     Joe, who was named for his grandpa
Joe
Underwood
, was born in the
Underwood home

in Columbia. It was common in those days for women to give birth at home or at the home of their parents, attended or unattended by a doctor. Another factor for Joe's mother, however, was that Dr. Marcus Weems, who delivered most or all of her babies, lived near the Underwoods in Columbia. Joe lived his entire life in Brazoria County, and appears there in the household of his parents as a seven year old in the 1920 census

, and a seventeen year old in the 1930 census.
6,7

     The
George P.
Munson
home

was at
Bailey's Prairie
, but because there was no school bus service, the family lived in Columbia during the school year. Joe went to elementary school there, and he loved to tell the story of having to repeat first grade: He figured half a day of school was plenty, so he took off every day at noon and played on the river bank. However, he also told of his teacher dismissing the students early one day because the Brazos was coming out of its banks, and of his father finding him up to his waist in water trying to get home.
George
was so furious at the teacher that he kept Joe home the rest of the school year.
     Joe loved Bailey's Prairie and Columbia. At Bailey's Prairie, he took an early interest in horses, cattle and gardening. At Columbia, he was surrounded by his beloved Underwood relatives. His aunt,
Laura
Underwood
, used a unique method to teach Joe, and probably the other children, how to swim: She tied a rope around his waist, and with her on the bank holding the other end to avoid disaster, he learned to swim in the Brazos River. Once when Joe was ten or twelve years old and dreaming of far away places, he put a note in a bottle, corked it, and threw it in the Brazos during an overflow. About six weeks later he got a reply. It was from one of his Caldwell first cousins who had found the bottle on the beach near Velasco! Joe loved the river, and according to his son Joe, always figured his favorite hymn,
Shall We Gather at the River
, surely was referring to the Brazos.
     By the time Joe entered eighth grade which was the freshman year at that time, there was no longer a high school in East Columbia. At West Columbia High School, one of his teachers was Mrs. Grandstaff whose daughter Kathryn would later change her name to Kathryn Grant, and, after a brief acting career, marry Bing Crosby. Joe graduated from
West Columbia High School
in 1929.
     Joe and
Ruth Anna
met at an Independence Day picnic in
Brazoria County
in 1935, and after a brief courtship, they married. Joe got his cousin
Emma
Kennedy
(deputy to Clerk of the County Court, H.R. Stevens) to open the courthouse so that he and
Ruth Anna
could get their marriage license

. Afterward, they went to the Methodist Church where they were married in the cupola by Reverend William Jay Richards. Witnessing their marriage were Joe's cousins,
Cauley
and
Armour
Munson
. After the ceremony, they drove to Sandy Point to tell
Ruth Anna
's mother that they were married, and then on to Bailey's Prairie to tell Joe's parents. When they walked in, Joe's dad called out, "Did you bring your girl, Joe?" To that he replied, "No sir! I brought my wife!"
8
     The first six years of their marriage, Joe and
Ruth Anna
lived in
Sandy Point
. To help Joe's dad who had a heart condition, they moved to Bailey's Prairie on 28 February 1942. They lived with Joe's parents until 1944 when they moved to Angleton. Their reasons for moving were that Joe's sister
Catherine
and her family had recently moved back in at Bailey's Prairie, and
Joe
Jr.
was starting first grade in the fall. They first rented a home from Joe's cousin
Lewis
Munson
who, with his wife and son, had moved to Boerne to manage a ranch owned by
Lewis
' brother-in-law,
Tony
Robertson
.
Lewis
' wife
Mildred
didn't like living in Boerne, so in 1945 they moved back to Angleton. Joe and
Ruth Anna
were given only a day's notice to move, and hearing of their dilemma, cousin
George
Kennedy
offered to rent to them a house next door to his own about two miles south of Angleton. In 1951 the Kennedys built a new home on the same property, and in November of that year, the Joe Munson family moved into their old home, a 1½ story built about 1929. After the home burned to the ground on 27 March 1971, Joe and
Ruth Anna
built a new home on the same site, and it remained
Ruth Anna
's home until the fall of 2003 when she moved with her son and daughter-in-law,
George
and
Margie
Munson
, to their new home at Bailey's Prairie.
8
     Joe worked for Dow Pipeline Operations from 1942 until his retirement in 1977. He was Chief Inspector for the construction of many of the pipelines that serve the Dow complex in Freeport and was certified as a Senior Engineering Technician. Although devoted to his job, his abiding interests were gardening and cattle ranching. He kept cattle at Bailey's Prairie on the 100 acres where he grew up, and also on some acreage a few miles to the west on Middle Bayou. His Windmill brand (

) is still registered in his name, his son
George
and daughter
Laura Jane
having re-registered it in February 2002 at Angleton. Joe inherited Windmill from his father in 1944, at which time he gave his original brand, Windmill J (

), to
Laura Jane
.
8,4
     Joe was a lifelong Presbyterian. As a child he attended Bethel Presbyterian Church in (East) Columbia. After moving to Angleton, he and
Ruth Anna
joined the
First Presbyterian Church
.
8
     Joe suffered a stroke in April 1993, and was later diagnosed with lymphoma. Ruth Anna cared for him at home as long as possible. He died at Cypress Woods Care Center with
Ruth Anna
, his daughter-in-law,
Margie
Munson
, and his granddaughter,
Kathryn
Munson
, at his side.