Ruth Anna Horn
b. 18 June 1918, d. 24 November 2008
Ruth Anna Horn|b. 18 Jun 1918\nd. 24 Nov 2008|p4.htm|William Lemuel Horn Jr.|b. 20 Jun 1880\nd. 25 May 1944|p148.htm|Ruth Minerva Fairfield|b. 16 May 1899\nd. 17 Dec 1972|p149.htm|William L. Horn|b. 17 Dec 1829\nd. 11 Feb 1908|p1287.htm|Naomi Simmons|b. 18 Feb 1846\nd. 18 Apr 1901|p1288.htm|James E. Fairfield|b. 20 Jul 1870\nd. 3 Sep 1952|p147.htm|Catharine M. Cordrey|b. 22 Aug 1870\nd. 9 Jun 1899|p1289.htm|
Daughter of
William Lemuel
Horn
Jr.
Daughter of
Ruth Minerva
Fairfield
.
Mother of
Laura Jane
Munson
.
Family Background: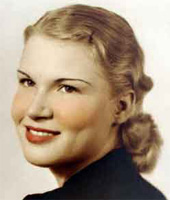 Ruth Anna Horn
Ruth Anna
Horn
was born on 18 June 1918 in
Lochridge, Brazoria County, Texas
.
1
She was the daughter of
William Lemuel
Horn
Jr.
and
Ruth Minerva
Fairfield
. She married
Joe Underwood
Munson
, son of
George Poindexter
Munson
Sr.
and
Louise
Underwood
, on 16 September 1935 at
First Methodist Church, Angleton
.
2

She died on 24 November 2008 in
Angleton
at age 90.
3
Following services at
Bethel Presbyterian Church, East Columbia
, she was buried on 1 December 2008 in
Old Columbia Cemetery, West Columbia
.     
     Ruth Anna was named for her mother and her great-grandaunt,
Anna
Fairfield
Pevoto
. She always said that she and her younger sister
Pearl
were born at Daddy O'Brian's near Lochridge, Daddy O'Brian being the man from whom her parents rented the house and farm. Living nearby was Ruth Anna's grandfather
Ed
Fairfield
and his family. Lochridge, the closest town, was established in 1913 and was at one time a thriving little community west of Rosharon in northwest Brazoria County. Ruth Anna remembered when there was a gin, a blacksmith shop, grocery store, post office and school, but the town died in 1929. Ruth Anna lived all her life in
Brazoria County
, and appears there in the household of her parents as a two year old in the 1920 census

, and as an eleven year old in the 1930 census.
4,5

     In February 1922 the Horns moved several miles to
Sandy Point
, a town of about 200 people (1925-post war population) located 17 miles northwest of Angleton in north central Brazoria County. There her father owned a grocery store and gas station, and was Postmaster. Their living quarters were in the same building. Faced with bankruptcy during the Great Depression,
Bill
Horn
deserted the family when Ruth Anna was about thirteen years old.
     The Sandy Point school had only seven grades, so area children attended
Angleton High School
. Her brother
Bill
took room and board in Angleton during the school year, but there was bus service by the time Ruth Anna began high school. She often told the story of skipping a class and paying a quarter to go up in a barnstormer's plane. She said she didn't enjoy it at all because she worried the whole time she was going to miss the bus. She always regretted missing out on high school activities because she had to catch the bus as soon as school was out.
     The first six years of their marriage, Ruth Anna and
Joe
lived in
Sandy Point
. Though the country was in a deep depression when she and
Joe
married, Ruth Anna remembered the mid to late 1930s as some of the best years of her life. The young couple went to the movies and ate out once a week, and they paid a woman 25 cents a week to do their laundry. That included washing the clothes on a scrub board, hanging them to dry, ironing and folding! To help
Joe
's dad who had a heart condition, they moved to
Bailey's Prairie
on 28 February 1942. They lived with
Joe
's parents until 1944 when they moved to
Angleton
.
     In the writer's memory, Ruth Anna never worked. She kept a wonderful home for her family, and was perfectly devoted to her husband and children. Overall, she enjoyed good health, though poor eyesight was a problem most or all of her life. She was legally blind for many years. On 30 May 2002, she had a double bypass and aortic valve replacement surgery, followed by an uneventful recovery.
Joe
died in 1997 after almost 62 years of marriage. Ruth Anna lived alone in Angleton in the home they had built in 1972, until the fall of 2003 when she moved with
George
and
Margie
, her son and daughter-in-law, to their new home at Bailey's Prairie. Her health began to decline several years previous to her death, but her mind was sharp almost to the end. With her when she passed away were
George
and
Margie
, her granddaughter,
Kelly
Keeble
, and great-granddaughters,
Sara
and
Kaydee
Keeble
.
3